Anti-Racism Resources for Self-Study
There is one body and one Spirit, just as you were called to One Hope when you were called; one Lord, one faith, one baptism; one God and Father of all, who is over all and through all and in all.    Ephesians 4:4-6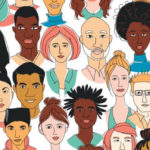 One Hope, a small discussion group based at the Cathedral, presents this curated list of anti-racist resources, which will be periodically updated. Each of us arrives at this issue with different ideas; there is no one-size-fits-all curriculum, and our journeys to become more loving and inclusive of our neighbors can be long and even painful. The weekly Cathedral eNews also provides links to our Adult Formation offerings and book studies on the topic of racism, through which we hope to support one another and grow closer together as a community of faith.
Cathedral Adult Formation Recorded Sessions to Watch
The Cathedral's One Hope group has developed and sponsored a series of programs, now available as a YouTube Playlist here. Click on the upper right corner of the video screen below to show the Playlist of all videos currently available, and view your selections.
In addition, take some time to read the moving Lamentation Liturgy, prayed as part of the "No Easy Walk" presentation on August 16, 2020. This liturgy invites us to pray and lament racism.
Videos to Watch
Crash (2004)   
Selma (2014)  
If Beale Street Could Talk (2018)
Black Panther (2018)
Remember the Titans (2000)
Black Like Me (1964)
Harriet (1964)
Do the Right Thing (1989)
Hidden Figures (2016)
Malcolm X (1992)
Bamboozled (2000)
The Great Debaters (2007)
When They See Us (2019)
Mudbound (2017)
"13" (2016)
Imitation of Life (1959)
Books To Read
Waking Up White, Finding Myself in the Story of Race, Debby Irving (Elephant Room Press, 2014)
The Color of Law, A Forgotten History of How Our Government Segregated America, Richard Rothstein (Liveright, 2017)
So You Want to Talk About Race, Ijeoma Oluo (Seal Press, 2019)
Ghosts of Jim Crow: Ending Racism in Post-Racial America, Dr. Michael Higginbotham (New York University Press, 2013)
Tears We Cannot Stop: A Sermon to White America, Michael Eric Dyson (St. Martin's Press, 2017)
How To be An AntiRacist, Ibram X. Kendi (One World, 2020).

Between the World and Me, Ta-Nehisi Coates (One World, 2017)
Dear White Christians, Jennifer Harvey,  (Eerdmans, 2014)
The Death of Race: Building a New Christianity in a Racial World, Brian Bantum (Fortress Press 2016).
Stand Your Ground: Black Bodies and the Justice of God, Kelly Brown-Douglas, (Orbis, 2015)
The Christian Imagination: Theology and the Origins of Race, Willie James Jennings (Yale University Press, 2011).
Race: A Theological Account, J. Cameron Carter (Oxford University Press, 2008)
Not in My Neighborhood: How Bigotry Shaped a Great American City, Antero Pietila, (Ivan R. Dee, 2010)
The Lines Between Us: Two Families and a Quest to Cross Baltimore's Racial Divide, Lawrence Lanahan (The New Press, 2019)
They Call Me Little Willie: The Life Story of William L. Adams, Mark R. Cheshire (Ellison's Books, 2016)
Brown in Baltimore: School Desegregation and the Limits of Liberalism, Howell Baum (Cornell University Press, 2010)
The Warmth of Other Suns: The Epic Story of America's Great Migration, Isabel Wilkerson (Random House, 2010)
From Here to Equality: Reparations for Black Americans in the Twenty-First Century, William Darity and Kirsten Mullen (University of North Carolina Press, 2020)
Five Days: The Fiery Reckoning of an American City, Wes Moore and Erica Green (One World, 2020)
Articles to Read
What is Owed   Nicole Hannah-Jones, New York Times, 6/24/2020
When Black People Are in Pain, White People Just Join Book Clubs   Tre Johnson, The Washington Post, 6/11/2020
Anti-Racist Neighboring   Michael Sarbanes, Medium.com, June 2020
The Case for Reparations  Ta-Nehisi Coates, The Atlantic, June 2014
The Making of Ferguson: Public Policies at the Root of Its Troubles, Richard Rothstein, Economic Policy Institute, October 2014
From Ferguson to Baltimore: The Fruits of Government-Sponsored Segregation, Richard Rothstein, Economic Policy Institute,  April 2015